English Language Institute UBC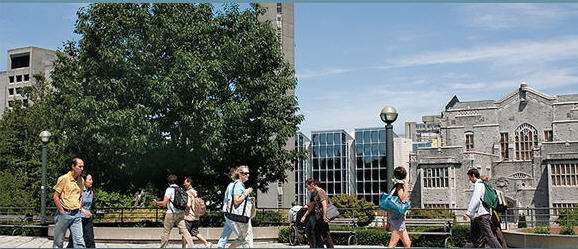 From the UBC site:

"Located close to downtown Vancouver, The University of British Columbia is one of the largest and most highly rated universities in Canada and the world. The UBC English Language Institute has welcomed thousands of students to its ESL programs since it first opened in 1969. Study English with experienced ESL teachers with graduate degrees and specialized training in teaching English to speakers of other languages."
"Facts About The University of British Columbia (UBC)

    Year UBC established: 1915
    Year of groundbreaking at current campus: 1922
    UBC alumni: More than 250,000 in 120 countries
    Student body, 2009-10: Undergraduate 37,944; Graduate 9,152
    International Undergraduate 4,899; International Graduate 2,671
    Number of countries represented in the student body: 145
    Number of faculty and staff: 13,421
    Number of research projects conducted annually: 5,000+
    Seven Nobel prize winners, among current or former faculty and alumni
    The UBC library system is the second-largest collection in Canada
    Number of varsity sports teams: 28, competing in 17 sports
    Number of student-run clubs: 250
    Size of campus: 402 hectares, including 412 buildings"
Follow @LearnEnglishCan on Twitter, (almost) everything about studying English in Canada and not only.